Welcome to The George Street Diner!
We are open for Dine in Service Wednesday to Sunday 8am-3pm , Currently closed Monday and Tuesday due to covid, you can pick up your online orders at the diner during open hours Please reach out if you need @thegeorgestreetdiner@gmail.com or 416-862-7676
For FOOD DELIVERY ORDERS https://www.skipthedishes.com/george-street-diner
SKIP THE DISHES DELIVERY LINK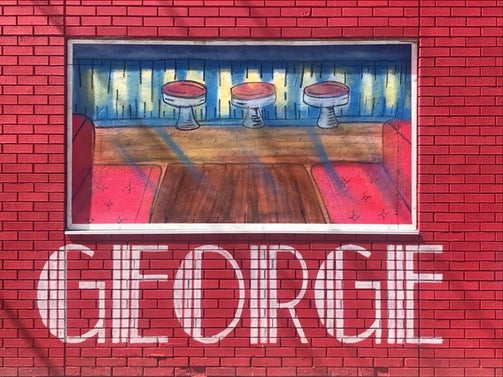 George Street Diner Signature Products

14

products

Irish Groceries,Snacks and Sweeties

27

products

GIFT HAMPERS

3

products
Showing 6 of 14 products on George Street Diner Signature Products collection
Showing 6 of 27 products on Irish Groceries,Snacks and Sweeties collection
Featured product
Farrelly's Famous Irish Soda Bread Mix
Regular price

Sale price

$11.30
Makes 2 loaves of Farrelly's Famous Irish Soda Bread. This special mix is a traditional Irish staple that uses baking soda as a leavening agent instead of traditional yeast. The advantage is that it does not have to rise like yeast bread, so it can be ready for baking in 5 minutes! Watch Ash work her magic here to see how "easy as sin to make" it really is:
https://www.youtube.com/watch?v=2uE8apZgnLA&t=7s
About Us
"I came from Ireland to Canada at the age of 19, with 12 dollars in my pocket and a dream of opening my own restaurant. My dream came true, I went from being a waitress and single parent with a 7 year old son, to opening The George Street Diner.
For the first time in 13 years, the day before St Patrick's Day, the diner turned the gas off on the grill, shut off the water and closed the doors. The staff left with bus pans of food and what was left went to the local homeless shelter. A sad day at the diner which is usually "the life of the party". March has always been the catch up month after a dry first quarter, but there will be no catching up this quarter. The diner family, what a beautiful bunch of the brilliant personalities — diner folks are the hardest working in the industry, getting to work at 6am and serving people who just woke up!
Finally we are Reopened for business so i would like to thank all our loyal and new Customers for being there for us and helping sustain this brilliant small independent owned business, it has not gone unnoticed.
- George Street Diner Owner, Ash Farrelly